Update: The website appears to be functional now 13:43 PST.
A recent update at Nov 29, 12:55 PST from Coinbase Team says: "Coinbase may be unavailable some users. We apologize for the inconvenience and are working to restore full access."
As of the time of writing this live updated report, Coinbase is still down at least for the last few hour.
One of the largest cryptocurrency marketplaces and exchanges, Coinbase is a digital asset broker headquartered in San Francisco, California. They broker exchanges of Bitcoin, Ethereum, Litecoin and other digital assets with fiat currencies in 32 countries, and bitcoin transactions and storage in 190 countries worldwide.
Users reported difficulties executing sell/buy orders and other functionality before their website went down with error message reads:
Coinbase is currently down for maintenance. Please try again later or see our status page for more information.
Pointing to their services status page.
While their mobile application is still up, some users are still unable to place orders.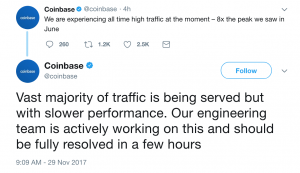 Other exchanges such as Bitstamp and GDAX are also not accessible during last few hours' crypto market movements.